Texture Sticks
In the early 1990's Armen was still busy working as a percussionist and drummer. There were certain musical situations where using brushes on the cymbals were not loud enough or defined enough. He also wanted to have a light clear sound on the rest of his set. This was why he developed "Texture Sticks".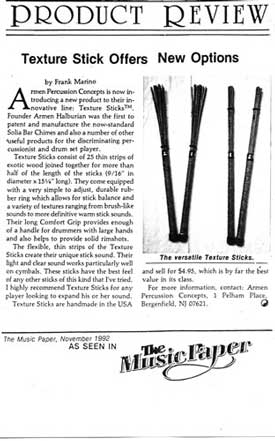 The "Texture sticks were made of twenty five flexible strips of match stick diameter bamboo rods solidly glued together and wrapped in cloth for more than half the length of the stick. These sticks were 9/16th inches in in diameter and 14 and 1/2 inches long. He equipped them with a durable rubber ring which made it very simple to adjust the spread. This adjustment allowed for ideal stick balance and the variety of textures that he was looking for, ranging from a brush like sound to a more definitive warm stick sound.
Because of their ability to flex naturally, "Texture Sticks" have a great feel to them. Their long comfort grip helps to provide for good solid rim shots and accommodates drummers with large hands.
"Texture Sticks" were well received by drummers world wide including Marvin "Smitty" Smith, Frank Marino and many others. These sticks are no longer in production because Armen became more involved in developing the H.O.T. Foot bass drum pedal playing method, a small portable practice conga drum, a shekere that attaches to the hi-hat and other interesting projects.